Please see below a list of SCOLAPS events and activities
General Council Meetings and Information Sessions
Thursday, September 21st 2017 from 6-8pm*
Thursday, October 12th 2017 from 6-8pm*
Thursday, November 9th 2017 from 6-8pm
Thursday, December 7th 2017 from 5:30-7:30pm
Thursday, January 11th  2018 from 6-8pm
Thursday, February 8th 2018 from 6-8pm
Thursday, March 8th  2018 from 6-8pm
Thursday, April 5

th

2018 from 6-8pm
Archived meeting minutes and agendas can be found here: SCOLAPS - Archived Agendas and Minutes
Location: Senate Chambers in North Ross 940, York University.
*Fall by-elections will be held on this date as well.
More Events this Year: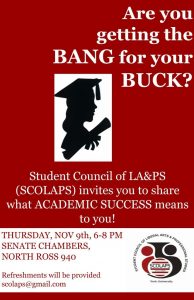 Third General Council Meeting: Thursday November 9th 2017 from 6-8pm in North Ross 940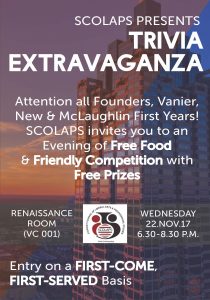 First Year Trivia Extravaganza

Wednesday November 22nd from 6:30-8:30pm
Location TBD
An opportunity for first year students to get to know other students from different programs and colleges
Please note that these events and activities are subject to change.
For more information, please e-mail us at
scolaps@gmail.com or call (416) 736-2100 ext. 55977.