The 2017-2018 SCOLAPS Executive team to represent students in the Faculty of Liberal Arts & Professional Studies: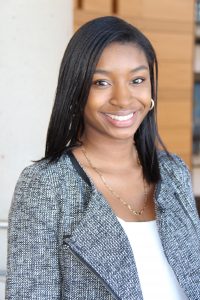 Chair
Antonnia Kiana Blake
Kiana Blake is currently in her fourth year double majoring in Criminology and Human Rights, and working at Osgoode Hall Law School. She hopes to attend Osgoode to pursue a JD/MBA degree or UofT to pursue a JD/MA in Criminology. Her primary goal this year is to develop and foster an unmatched collaborative and communal environment for students within LA&PS to discuss academic matters. Her passion for advocacy has strengthened her desire to increase the number of students in LA&PS who participate in voicing their opinions and thoughts on the academic side of university life. The more students involved in processes of academic governance, the more representative our policies and procedures can be of student needs. Academically, she currently holds an 8.00+ GPA and has received several academic achievement awards and scholarships, notably the York University Faculty Association Undergraduate Scholarship during the 2016/17 academic year. Her level of dedication to her academic endeavors is parallel to what she will put into our student council, its initiatives and members.
Fun fact: One of Kiana's all-time favorite shows is The Young and the Restless.
Email: akblake@my.yorku.ca
Ajay is the current Vice-Chair for the 2017-2018 academic year. He is a fourth year student in LA&PS and has been involved with SCOLAPS for the past three years. He has served on a number of committees and has been involved with important decisions affecting students, faculty and the university at large. Ajay hopes to continue to effectively represent the students of LA&PS and ensure that their views are reflected at the executive level. He is a strong believer in student engagement and has seen the importance student involvement in academic governance can make. Through his various policy making roles, Ajay has strived to build relationships between faculty and students. He looks forward to keeping students informed and representing their voices for LA&PS and continuing to advocate for the concerns of students.
Fun fact: In his spare time, Ajay is a huge Toronto sports fan; whether it be the Leafs, Raptors, Jays, Argos or TFC!
Email: ajrakhra@my.yorku.ca
Noorpreet Dhillon is an undergraduate student studying Public Administration at York University. She has acquired a summer position with Ministry of Municipal Affairs and Ministry of Housing in the corporate services unit. She is an aspiring legal professional that is passionate about social justice issues. She describes herself as a lifelong learner, feminist, and advocate. She is often seen actively engaged in the community and at school.  She is the outgoing Vice-President of the Women Empowerment Club at York University, where she helped in organizing a conference on women issues. The conference was educational in nature and was successful in opening up a forum where students could engage in a dialog on how to mitigate gender parity issues. She has been involved in SCOLAPS for over three years, where she has represented the student body at the faculty council, academic petitions panel, academic planning and policy committee, as well as, the academic honesty panel.  For the academic session 2017-2018, Noor will be serving as the Treasurer on the executive committee of SCOLAPS and will be representing students at the York University Senate in the capacity of a student senator. She is honored to serve in these positions and eagerly looks forward to the upcoming year.
Fun fact: When Noor is not busy hitting the books, she spends her time binge watching her favorite television shows such as Scandal, How to Get Away with Murder, Law and Order (SVU), and Criminal Minds.
Email: noordhi@my.yorku.ca
Aqsa Khalil is currently in her second year at York University, in the program Law and Society. Aqsa is passionate about law, politics, and governance. Serving as first year representative in her first year at York, Aqsa has developed a sincere and deep appreciation towards matters concerning academic governance within her faculty. She hopes to continue to contribute towards creating positive change within SCOLAPS. Aqsa is eager to collaborate with various members of the York community to allow students of Liberal Arts and Professional Studies to grow academically. This year, as secretary, Aqsa hopes to work side among SCOLAPS councilors to not only gain comprehensive knowledge of the various components of the student-run government, but to acknowledge and address voices from the many committee's present. Aqsa aspires to enhance her leadership skills, as well as make the most out of her time at York, through student council.
Fun fact: In her spare time, Aqsa loves to write – besides her desire to become a lawyer, Aqsa hopes to one day publish her own book. In addition, Aqsa also loves impersonating different people. Her favourite voice imitation is Elmo from Sesame Street!
Email: aqsak@my.yorku.ca